The Most Boring Essay Ever
Fiction Stories
Publish DateOct 28,2014 at 11:18 AM
Abstract:
How do you write the most boring essay possible? And who cares about such an essay? What makes an essay--or anything boring. Can something that is sooooo boring actually be interesting?
Full Story:
My preferred pigment is carroty/ buttery, but I loathe eating anything that is orange, such as the fruit orange. More specifically, I adore mildly spicy mango salsa, vegetable pizza ( without mushrooms or tomatoes), California sourdough bread, nuts (walnuts & cashews), Ben and Jerry's chocolate cookie dough ice cream, Kirkland's sea salt potato chips, Costco chocolate chip cookies, Panera black bean soup ,Kellogs Apple Jacks cereal, Kroger 2% milk and black olives that were made in Greece. I also like to eat pineapples, all apples except Gala, watermelons that are very juicy and mouth-watering, melons, green grapes, and salad with Italian dressing and croutons. My preferred literary pieces are The Lord of the Rings and the Hoppit, by J.R.R. Tolkien; The Da Vinci Code, Angels and Demons, The Lost Symbol, Digital Fortress, and Deception Point by Dan Brown; Jurassic Park, The Lost World, Airframe, The Andromeda Strain, Next and Sphere by Michael Crichton. They are all very entertaining, enjoyable, divulging, pleasurable, pleasing, and amusing. I like to watch Two and a Half men, Lost (ABC), Spongebob Squarepants, and House. They are all very 'comical, funny, sidesplitting, laughable, hysterical, and hilarious' TV shows and I giggle a lot while I divulge in them. I also like to play 'exhilarating' games such as Halo Reach, Halo 3; ODST, Halo 3, Halo 2, Halo: Combat Evolved, Call of Duty 1, Call of Duty 2, Call of Duty 3, Call of Duty 4, Call of Duty Modern Warfare, Call of Duty Modern Warfare 2, and Call of Duty Black Ops. I will play all these games on my Microsoft XBOX 360 and Sony Playstation 3. I have two controllers for each of my gaming systems and also have one terabyte hard disks in each. I bought my Microsoft XBOX 360 with two controllers, headset, and one terabyte hard disk on Feburary 23, and I do not know when I bought my Sony PlayStation 3.
I contemplate that additional people should manufacture fans (a cooling contraption). These contraptions keep people cool. Fans can be enormous, they can be insignificant, they can be tetragonal, and they can be spherical. I adore fans, but the multifaceted devices are very complex and are very hard to assemble and create. Fans kept people cool. A fan usually will have three blades (sometimes, however. they can have four, five, or six) that spin with very high velocity in a cage. The cage will most likely be steel or some other metal but it can be rubber and plastic. A 12 watt motor that is inside of the fan makes the motor spin and as a result the blades spin; this is because the motor is connected to the blades. The user of the fan will control how swiftly he or she wants the blades to spin. The higher the setting is set to, the faster the blades will spin. There should be more fans produced in the world because there aren't enough. People should have fans in every corner of their house. The gargantuan air conditioning system (or AC for short) that is installed in most American, two story homes is not enough to keep people cool and chilled. Fans looked wonderful in standard American 1 story or 2 story homes and they can chill and cool an individual very swift.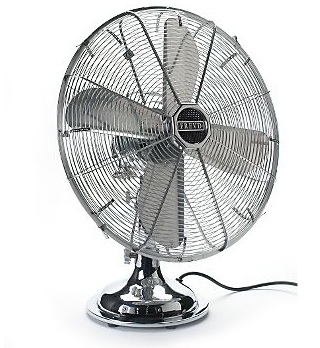 My adoration for the contraption known as a fan developed on March 21. I have a very stimulating 'story' about the device. When I was coming home from school that sunny, blazing March day, I was scorching, and blazed with heat. I was sweating by just standing. It was so blistering that all the pupils and professors outside of my school, located, were sweating. I got on to my immense, yellow school bus (bus number 54) and it took me to my home. (My house was built in 2001, and therefore was around 10 years old. It will have a two acre lot/yard, and I play there with my friends very frequently. I really adored my home.) I had a very sizzling bus ride. Every boy and girl was sweating like he or she had been playing polo for three hot sunny days. I felt like I was going to die. When I was stepping over the threshold into my beautiful two story house, I saw a fan. It was an 18" diameter, round, steel caged fan that was made in Germany. My mom was right in front of it and she was smiling, as the chilling air reached her sweaty body. She's a 5'5," and was wearing a t-shirt that said "Polo" on it and a pair of Nike shorts. It seemed though that the round fan caused her to cool down. I asked my mom if I could put the fan in oscillating mode (the fan spins in oscillating mode) so I would get some cool air. I wanted to do this so I could cool down a bit. When I went to turn it into to oscillating mode, however, the fan collapse to the shiny, wood floor; I, with the steel caged fan, also fell to the wooden floor. I requested to my mother to buy a fresh fan but she said that all the fans were out of stock. I cried for over twenty, pain-filled minutes, and then, my mom told me to take a shower. When I will come out of the shower, I was happy again. I was happy because I was cooling down. In fact, I was jubilant, comical, thrilled, ecstatic, triumphed, blissful, elated, euphoric, exited, and exhilarated. However, I was still very mad because the world was out of stock of fans.
This experience got me very interested and involved in the fan business. Fans are way to scarce and rare on this little blue planet, which is 75% water, and there should be thousands if not millions more produced. Even though fans come in thousands of different sizes and shapes (26", 483", round, circular, spherical, cubical, square), they are the cornerstone of cooling.
Boring? Or interesting?